Our guest today is author Chris Karlsen
It's such a thrill to have Chris here today. Great information follows below in a wonderful article about writing in foreign settings.
Chris is promoting
Byzantine Gold
and you'll definitely want to pick up your copy today.
Links have been provided below.
Welcome Chris Karlsen!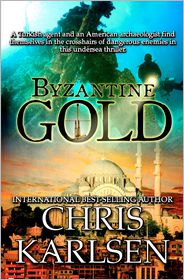 Writing the Foreign Setting—You've Never Been To
If you're writing sci-fi or fantasy, or a similar genre where you do the world building, you have unlimited leeway with creating setting...or so it seems to me. When your hero and heroine land on Mellifluous, your imaginary planet a million miles from earth, they can encounter almost any environment and/or creature. The choices are only limited by you, the author's, imagination. Your couple can drink from lavender colored creeks and the foliage on the trees might grow on the bottom while the tops are the rough tangle of roots. Who's to tell you that's wrong? Who's to say that's not the color of creek water on Mellifluous, the planet of your own creation?
Outside of the world building genres things are much different. If a story is set in Chicago, and the hero and heroine are driving from O'Hare Airport to the Loop, to say they are admiring the majestic mountains ringing the city will bring a tsunami of emails. As a Chicago girl myself, I can attest to the flatness of the area. They can admire the "steel canyons" that the skyscrapers of the Loop form, as I once heard them described. But snow-capped peaks rising thousands of feet encircling the suburban spread…no.
Researching most American cities when you've never been there is fairly easy. I'll stay with the Chicago setting. The internet is loaded with pictures taken from different parts of the city, the historic sites, and the museums. Finding some of the favorite foods of Chicagoans, or which actors or authors come from the city isn't difficult information to obtain. A small town USA setting might require additional research, but it can be done.
Things get a bit dodgier when the story moves to a foreign country. Common settings like England, Scotland, France, and much of Europe, especially Western Europe, have almost any piece of information you need available and generally requires little time to locate. You may not have been there, or know anyone who has, or know anyone from there. But chances are, thousands of readers have visited or were born and raised in whatever country you're using. They'll not hesitate to correct you if you get even a small detail wrong. Have the heroine describe a squirrel. If that type of squirrel is not native to the country, readers will tell you. Information of that sort is very accessible.
But this doesn't necessarily apply if you choose a more exotic setting than Europe or America. Let's say you want your couple in Turkey, for example. Now, it gets a bit trickier. You want to give the reader the feel of Istanbul, the mix of Byzantine and modern architecture, the smells and sounds of the Spice Market, the opulence of Topkapi Palace, or the sight of the ferries crossing the Bosphorus from the European side of the city to the Asian side. Where do you begin to find this information?
For my latest book, Byzantine Gold, the early chapters are set in Paris and Istanbul. When my hero and heroine are assigned to work the recovery team of a Byzantine shipwreck, I wanted to use an Eastern Mediterranean setting for the wreck but not necessarily Turkey. Since the hero, Atakan, is an agent for the Turkish government, I needed a locale where he still had jurisdiction. I chose Northern Cyprus, or to be more specific, the Turkish Republic of Northern Cyprus.
I've been to the Eastern Mediterranean but never to Cyprus. A number of sources helped me create a realistic setting. I started with the online official tourism sites. They'll give you everything from weather, regional and town maps, historical sites, popular spots for various sports, hotel and car rental listings to important information regarding government documentation and requirements.
For other details, I used travel books. In the past, I've used Fodor's. This time I liked Rough Guides Cyprus. In there I found descriptions and pictures of the flora and fauna native to the region. Since my setting was near Famagusta, I looked at the websites of restaurants around there that were mentioned in the book. The websites all listed their menus. I picked several of the dishes they served for those my characters ordered. The book also contained tidbits of local information that helped to paint a picture of the environment. One of the areas mentioned was the Kokkinokhoria or Red Soil Villages. This area is famous for its potato fields, which it's said are some of the finest grown in Europe. That tidbit is such a small piece of info but when tied to the heroine in a personal way, it gains in meaning.
Another source to consider, depending on the nature of your story, is online English language newspapers from the country. For example, your Syrian heroine might have fled the civil war there and is currently in a refugee camp in Jordan. If an English paper exists, (the Jordan Times is one,) read a few copies. They can give insight to the political climate and how the people of the country feel about the camp and/or the refugees. Say the hero is a Jordanian doctor treating the refugees. Would she be welcomed if she chose to leave the camp and make a life in Jordan? The Op-ed pages are often very enlightening and where you'll see a cross section of opinions.
Another source available online is the CIA World Factbook. It contains maps, economic information, population statistics, and all sorts of useful material. There are a number of think tanks who specialize in threat assessment regarding various organizations and geo-political situations and who publish their findings. (Globalsecurity.org, Janes.com, washingtoninstitute.org are a few) Google Earth is another source where you'll find a general overview of an area along with photos.
I use foreign settings for both my series. I picked countries I love, England and Turkey. I enjoy learning more about them with each story. Even when I ventured into Cyprus, my unfamiliar setting, I enjoyed "discovering" the different aspects of life there. For many, you're the reader's tour guide.
Back cover blurb for Byzantine Gold
A sunken warship from the Byzantine Era carrying an unusual cargo of gold has been found off the coast of Northern Cyprus. News of the valuable cache has attracted the attention of a terrorist cell. They plan to attack the recovery team's campsite and steal the artifacts. On the Black Market, the sale of the relics will buy them additional weapons.
Charlotte Dashiell, an American archaeologist, and her lover, Atakan Vadim, a Turkish government agent, are scheduled to be part of the recovery team that brings up the artifacts. While en route to Cyprus, they find themselves caught in the crosshairs of Maksym Tischenko, a Ukrainian contract killer bent on revenge. Charlotte, Atakan and Tischenko share a grim history. As a result, Tischenko is a man who will stop at nothing to achieve his goal—seeing them both dead.
Excerpt for Byzantine Gold
Charlotte answered on the fourth ring. Caller I.D. showed "restricted."
"Hello."
"They are called, Angelique tulips. You admired them in the hospital garden in Paris."
Charlotte froze, holding her breath as she listened to the nightmare voice, remembering how his Eastern European accent rounded certain sounds and how he stressed the last syllables in his words. Called became cawl-d.
Tischenko.
"Everything in time," he said and hung up.
Charlotte dropped the phone on the table. She turned to Atakan.
The shock must've shown on her face. "What is wrong?"
"That was Tischenko," she said, finding her voice. "The flowers are from him. He was watching me in Paris when I was at the hospital. He—"
Atakan didn't wait for her to finish. He rushed into the living room, grabbed his gun from the bookshelf, and ran out of the apartment.
Charlotte followed as he flew down the four flights of stairs to the street.
"Stop." Catching up to him on the sidewalk, she hooked his elbow with her hand. Fearful an armed Tischenko hid nearby, she positioned herself in front of Atakan, thinking to shield him. "We can't stand here. He could be anywhere taking aim at you right now."
"Go back inside."
"Not without you." She tugged on his shirt, pulling him toward their building. "Atakan please, let's leave. Call the Director."
Atakan shoved her behind him. Silent, his eyes searched the dark doorways of neighboring apartment buildings and parked cars.
"Atakan please."
"Get inside."
She stepped in front of him again. "We stay here together or we leave together."
An eternity of seconds passed. Neither moved or blinked.
They both jumped and turned at the bellow from the horn of a passing truck. Thankfully, the driver was waving to another coming the opposite direction. He never saw the man in the sling pointing a gun at him.
"Please," she repeated.
Atakan nodded. He stopped at the building's entry door and took a last look, surveying the street. "He moves us around like pawns in a private game."
Author Bio for Chris Karlsen follows below:
I was born and raised in Chicago. My father was a history professor and my mother was, and is, a voracious reader. I grew up with a love of history and books.
My parents also love traveling, a passion they passed onto me. I wanted to see the places I read about, see the land and monuments from the time periods that fascinated me. I've had the good fortune to travel extensively throughout Europe, the Near East, and North Africa.
I am a retired police detective. I spent twenty-five years in law enforcement with two different agencies. My desire to write came in my early teens. After I retired, I decided to pursue that dream. I write two different series. My paranormal romance series is called, Knights in Time. My romantic thriller series is, Dangerous Waters.
I currently live in the Pacific Northwest with my husband, four rescue dogs and a rescue horse.
Find Chris on the Web